Don't miss the April Ghouls Bash!
April 1st, 7:30-10:30pm
Necanicum Room, Seaside Civic and Convention Center
The Oregon Ghost Conference is having a party and we want you there! We have a lot to celebrate, including the 5 Year Anniversary of the Oregon Ghost Conference and a big kick off to the new Blues and Boos Tour with our friends Rae Gordon and Ben Rice. We hope you will join us for this evening of fun and entertainment!
Rae Gordon
Since blues & gospel singer Rae Gordon could remember, she has been able to sense things not everyone can, which has led to some interesting moments in venues after last call. Even with thos
e extra sensory moments, she still fancied herself somewhat of a
skeptic, until one fateful night in a haunted tavern when she heard a spirit talking to her on a recording...
The Rae Gordon Band brings together award winning and nominated musicians and is fronted by the 2014 Muddy Award Winner for Best Female Vocalist (Cascade Blues Association). They have played the big and little stages of the Northwest's favorite clubs, dance floors and festivals helping to mold their signature sound that spans from a danceable get up and groove to a haunting slide tone that will make you want to find a back porch and sit a spell. Rae enjoys playing intimate venues where she can connect one on one with people in the audience to large festivals where she can connect with a whole community.
Ben Rice
Oregon native Ben Rice has been leaving huge impressions on audiences around the Northwest and winning awards for his vocals and guitar playing for the last seven years. In 2014 at the International Blues Challenge in Memphis, Tennessee he left the audience speechless with a raw emotional delivery of his version of "Key to the Highway." On his second consecutive trip to the International Blues Challenge finals in 2015 he delivered an elegant performance that highlighted his voice, writing, and guitar playing. After that performance he was given the St. Blues Guitarist award for best guitarist in the solo/duo competition at the 2015 International Blues Challenge.​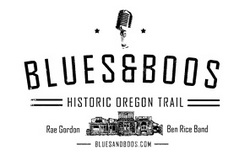 Blues and Boos Kick Off
Join Rae in kicking off her first Blues & Boos tour with the Ben Rice Band and other special musical guests as they meet music lovers, dead and alive along the Historic Oregon Trail...
Meet the Blues & Boos Crew at the April Ghouls Bash on April 1st at the Oregon Ghost Conference. This will be a chance to see them before they set off on their Oregon Trail adventure.
Celebrate 5 Great Years of the Oregon Ghost Conference with a Special Surprise Guest Appearance
Hear from Rocky Smith, Director of the Oregon Ghost Conference and a special surprise guest as we celebrate five years of the Oregon Ghost Conference. Enjoy the music of Rae Gordon and Ben Rice, watch the Oregon Ghost Conference Five Year Anniversary Slideshow, get food and drinks*, visit with friends met over the years and have fun. Just remember it's April Ghouls Day, anything can happen...
*Cash Bar and Concessions will be available at the April Ghouls Bash
Tickets:
General Admission Ticket(s) $10.00
Online sales have ended. Tickets for events and classes will be sold onsite at the Oregon Ghost Conference Ticket Booth until sold out.