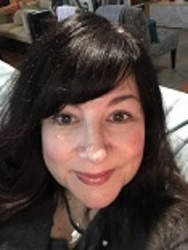 Karen Frazier
CLASS INSTRUCTOR:
Dream Interpretation Workshop
CLASS INSTRUCTOR:
Crystals for Healing
Karen Frazier is the best-selling author of books about metaphysics, crystal healing, energy healing, dream interpretation, and the paranormal. As a professional writer, she has written many books and penned hundreds of articles.

Karen is a columnist for Paranormal Underground Magazine writing dream interpretation and metaphysics and energy healing columns. Karen was also served as the co-host and producer of Paranormal Underground Radio and as Paranormal Underground's managing editor.

A frequent guest in media, Karen has appeared on the Travel Channel's Mysteries at the Museum, spoken and taught at regional conferences, and appeared on numerous radio shows and podcasts. She teaches classes in energy healing, crystal healing, dream interpretation, Reiki, personal development, and psychic development.

Karen is an intuitive energy healer who is a Reiki Master/Teacher, as well as an ordained minister for the International Metaphysical Ministry. She has also studied numerous energy and alternative healing techniques including quantum touch, aromatherapy, sound healing, metaphysical healing, hypnotherapy, and crystal healing. She holds a Bachelors and a Masters of Metaphysical Science (M.MSc) as well as a PhD in Metaphysical Parapsychology. She is currently working towards her Doctor of Divinity (DD) specializing in Spiritual Healing. Visit AuthorKarenFrazier.com for more information.