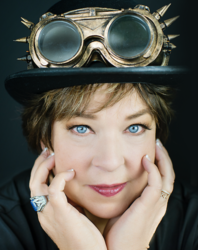 Class Description:
In her 35 years of investigating paranormal phenomena and clearing out ghosts, Teresa discovered that ghosts are the least of anyone's problems.
So what exactly is out there? Come and learn about what else you may encounter during an investigation and what to do about it.
Class Outcome:
Students will have a strong grasp of how-to conduct a paranormal investigation, how-to keep themselves safe, how-to assess the phenomena and how-to cure the problems.
CLASS:
Let's Hope It's Just a Ghost

(2hr)
Instructor:
Teresa Carol
Friday, March 29, 2019
3:00pm-5:00pm
Before purchasing tickets for Classes, Evening Shows or Ghost Tours, we highly recommend that you make a plan by looking at the 2019 Schedule so you can decide how you want to spend your time. Decide what classes you are interested in taking and add up the total class hours. If you have a total of more than 5 or 6 class hours and you are also considering attending the Evening Shows or Ghost Tours, you should consider buying a FIRST CLASS PASS instead of Individual Tickets. FIRST CLASS PASS includes General Admission to Speakers & Vendors Area, Up to 10 hours of Classes, Admission to our two Main Events, Two Ghost Tours, a 2019 T-Shirt, and 10 Raffle Tickets as a discounted package. BUY A FIRST CLASS PASS NOW!
If you decide instead to purchase Individual Tickets to each class or event, you will also need to purchase a General Admission Ticket. General Admission Tickets can be purchased online or at the Ticket Booth onsite when you arrive. Individual Tickets are available from each class or event page. Individual Tickets for this class are available below:
2hr Class Registration: $20.00
*INDIVIDUAL TICKETS WILL BE AVAILABLE FOR PICK UP AT THE BOX OFFICE ON-SITE, UNDER THE NAME OF THE PERSON WHO PURCHASED THEM. TICKETS WILL NOT BE SENT TO CUSTOMER.