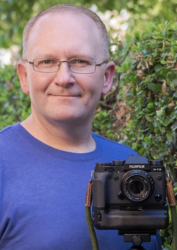 Mickey Burrow
SPEAKER:
Debunking & Verifying Photo & Video Evidence
CLASS INSTRUCTOR: Examining Photo & Video Evidence
Originally based in the Central Valley of California, Mickey Burrow has invested claims of the paranormal since 2006. Mr. Burrow spent nearly 22 years as a crime scene investigator and has over 30 years of expertise as a photographer; 20 of those years as a forensic photographer and six as a photography instructor. He is also a qualified expert in photography in the United States federal court system.
Mr. Burrow has appeared in the Ghost Adventures television program on the Travel Channel network in 2008, where he gave an expert opinion on video evidence from the defunct Linda Vista Hospital. In 2014, he also appeared in the television program Monsters and Mysteries in America on the Destination America network, where he assisted in investigating a possible encounter with the legendary bigfoot in the Sierras of California. Mr. Burrow also appeared on The New Detectives: Case Studies in Forensic Science (Crimes of Passion episode) on the Discovery Channel network. You can read more information about Mr. Burrow and about investigations at www.paranormalinspections.com or at www.mickeyburrow.com
SPEAKER TOPIC:

Debunking & Verifying Photo & Video Evidence
MAIN STAGE:
Sun
d
ay, March 31st @ 1pm
This lecture will show attendees what to take into consideration and what to look for when examining still images and/or video of paranormal events. From the equipment used, how it was used, the environmental conditions, to the totality of the circumstances of the event. Mickey Burrow what to inspect and what to examine while investigating questionable images or video.