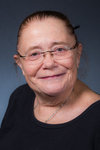 Rebecca Hufford
MINI-EVENT HOST:
Who Were You Before? Past Life Regression
Rebecca began her exploration of spiritual development over 50 years ago at the age of 10. Since then, she has been involved in the personal development and the spiritual movement through attending classes, workshops, and selected readings that include Marice Nicoll, Gurdjieff, Charles Tart, Starhawk, and others.
Rebecca has trained with various people and organizations, including Cat Wilson, Rich Aanrich, Helen Palmer, the Berkeley Psychic Institute, and more. She has taught various classes in, treasure mapping, meditation, tarot, and self-hypnosis. She has assisted in teaching hypnosis, neuro-linguistic programing, and coaching. Rebecca is also an end of life coach or death midwife. She is a NGH (National Guild of Hypnotists) certified hypnotherapist, Master Neuro-Linguistic Programing Practitioner, and Board Certified Coach with an emphasis on transitional and transpersonal coaching. She belongs to various local and national professional organizations. Her mission is to assist others through transitions and help them realize their potential, improve their lives, and become more empowered as they learn the steps to the dance of their unique life situation. To this end she offers her services on a sliding scale for low income clients.