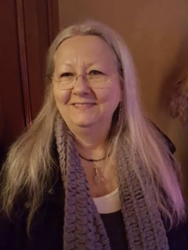 Sharon "AurorA" Lewis
CLASS INSTRUCTOR:
Remote Viewing and the Paranormal
CLASS INSTRUCTOR:
Channeling Entities or Your Higher Self
CLASS CO-INSTRUCTOR:
Spirit Attachments
Sharon Lewis, "AurorA", is a psychic medium, channel, and an energy healer. She is also a medium with White Light Paranormal Insight. Additionally, AurorA makes handmade gemstone jewelry that she infuses with positive energy that she calls SegaSrial.
An intuitive since she was a young child, AurorA started remote viewing at age 11 and channeling at age 15. As an adult, AurorA honed her abilities and began doing readings. For energy work, she has studied Reiki, Theta, Quantum Touch, and Matrix Energetics. She works with three Hathor healers using a modality they created and call Transcendental Transformation. They help release energy blocks, limiting beliefs, make corrections in chakras and energy fields, heal past lives, help people to move forward, help to heal illnesses, and more, all in line with the newer human consciousness levels.
For several years, AurorA has conducted private readings and energy healings. In 2013 and 2014, she worked as a reader/healer out of New Renaissance Bookstore in NW Portland. She is part of the leadership and does readings for two Metaphysical Fairs held monthly in the Portland area. Two years ago, she founded a team of four channels who channel a collective of light beings called "The Panel." Together they bring positive messages to assist humanity in raising vibration and shifting human consciousness.