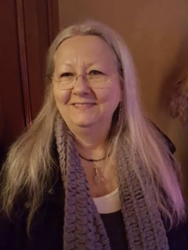 Sharon "AurorA" Lewis
CLASS INSTRUCTOR:
Channeling Entities
CLASS INSTRUCTOR:
Remote Viewing
CLASS INSTRUCTOR:
How to Connect with Loved Ones in Spirit
Sharon Lewis "AurorA" is a psychic medium, channel, and Reiki master. She is a medium with the paranormal investigative team White Light Paranormal Insight. Monthly, she hosts and does readings for metaphysical fairs in the Portland and Tigard areas.
AurorA is an instructor for Awaken-Yourself Psychic/Medium Workshops with Seth Michael, and The Empowerment Workshops with Luis Navarrete. She has created her own healing modality called Transcendental Transformation. AurorA has also done gallery readings in Washington and Oregon with Seth Michael including the 2017 and 2018 gallery reading events for the Oregon Ghost Conference.
In 2012, AurorA channeled messages from her guide Aoben Oben to groups of people in the Portland Oregon area. In 2013, AurorA founded a team of four channels for a collective of light beings called The Panel. Together, they channeled positive messages. Since then, she has channeled independently and with another member of The Panel group.
AurorA makes handmade gemstone jewelry infused with the energy that reminds us that we all are infinite beings of love. She is also in the documentary called All Around Us about the life of Seth Michael due to come out in 2019.