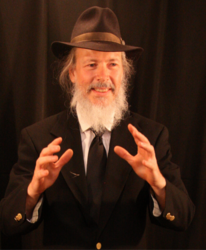 Yitzhak Schlomi
SPEAKER:
Exorcism in Jewish Literature
MINI-EVENT HOST:
S
éance
Yitzhak Schlomi is a practicing Jewish mystic and storyteller living in Portland, Oregon. At age 45, he began to study the mystic Hebrew texts and became thoroughly enveloped in Jewish mysticism. Yitzhak currently lectures and teaches classes in the mystic Hebrew literature, sharing exercises commonly used by both ancient and modern Jewish mystics, and giving private storytelling performances. He has a passion for working with spirits and leading séances.
SPEAKER TOPIC:

Exorcism in Jewish Literature
MAIN STAGE:
Satur
d
ay, March 30th @ 2pm
Exorcism in Jewish Literature is a scholarly look at cases and classifications of exorcism in Jewish Mystical, Liturgical, and Biographic Texts. After introducing the concepts of involuntary spirit and demon possessions as understood in Judaism, we explore the necessary conditions and techniques for expelling a spirit from a person or place. We conclude with a few specific, well-documented cases spanning the Middle Ages to the present.