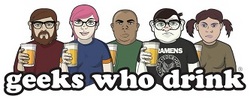 April 2nd, 7:30-9pm
Are you a Ghost Expert?
Do you and your friends or your paranormal team think you are ghost experts? Well now is your chance to prove it! Join us for this exciting Ghostexperts, A Paranormal Quiz hosted by Geeks Who Drink and we will find out once and for all who the real ghost experts are!
Geeks Who Drink is a homegrown Pub Trivia Quiz modeled after those in Ireland and the UK.
Play in teams of up 5-8 or by yourself if you're some kind of savant.
If you want to play but don't have a team, come anyway. We will help single players join an existing team or create a new one.
Quiz is 90 minutes (6 rounds) of Ghost and Paranormal themed content including pop culture related topics.
Winning teams gets street cred and other prizes.
You don't have to be a trivia god to enjoy the quiz. Since you're playing on a team, the collective knowledge base makes for more fun, less pressure. It's not final friggin' Jeopardy.
Tickets:
General Admission/Entry Fee Ticket(s) $10.00
Online sales have ended. Tickets for events and classes will be sold onsite at the Oregon Ghost Conference Ticket Booth until sold out.
*Cash Bar and Concessions will be available at the Ghostexperts Quiz