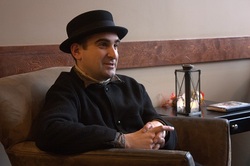 Rocky Smith
SPEAKER:
2018 OGC Welcome
Oregon Ghost Conference Director
Rocky Smith was born and raised in Oregon City, Oregon. Today, he teaches art at Oregon City High School, where he has been for the last 16 years. He is also well known in the community as a local historian and paranormal investigator. Smith finished his second term on the Oregon City Commission in 2016 and is currently taking a much needed break from politics. In college Rocky worked for three years in the historic Ermatinger House, the oldest house in Oregon City and the third oldest house in the state of Oregon. He has had many paranormal experiences over the past 20 years in the Ermatinger House including his first experience, which was featured in Susan Smitten's book,Ghost Stories of Oregon. Smith has also worked to preserve the historic home which has undergone a complete restoration and should be open to the public this summer!

Smith started researching the paranormal activity in Oregon City in 1995 and has documented close to 100 haunted places within the city. In 2006, he combined his love for history and knowledge of the paranormal, founded Northwest Ghost Tours and now leads the Walk with the Spirits tours in Oregon City. Smith has been featured on local radio and TV and has been asked to speak at several paranormal conferences on the west coast. In 2006 and 2007, he was awarded Teacher of the Year at Oregon City High School. Smith was awarded Oregon City's Citizen of the year for 2013 and is the director of the quickly growing Oregon Ghost Conference.